Be the Change
"The French Connection"

Written by Michelle Boronad
International Director, Reliv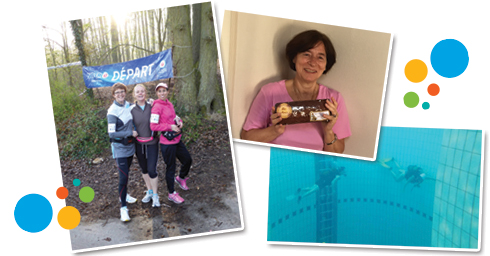 Team Members:
Michelle Boronad - €660
Karine Burbridge - €1180
Isabelle de Tarlé - €745
Veronique Maury-Selle - €400
Mathilde Grunbaum - €165
TOTAL = €3150

The Race is On
Karine Burbridge, Mathilde Grunbaum and I, Michelle Boronad, participated in the Dagovéranienne race in the city of Ville D'Array on the 12th April 2015. Our aim was to raise funds for the Kalogris Foundation, a non-profit, charitable organisation launched in honour of the late Dr. Theodore Kalogris back in 1995.

Karine Burbridge outshone us all by running 16km in 1 hour 38 minutes. She had her headphones on and ran like the wind with an average of 1km every six minutes and seven seconds! She only began running back in January of this year! It just goes to show how powerful the Reliv products can be. Karine really set the bar high for us all. Not only is she now addicted to running, she also raised the most money at €1180. €865 came from her running efforts, €315 from her selling items on the internet.

Mathilde Grunbaum raised €165 and I, Michelle Boronad, raised €660 from our running efforts. We ran at an average speed of six minutes twenty-five seconds per kilometre. We could have run a bit faster if we hadn't stopped to take pictures and update our Facebook friends! Nevertheless, we are delighted with our accomplishment, as our aim was and always is about having fun whilst raising as much money as we can for malnourished children in countries like Haiti, the Philippines, Myanmar, Cambodia etc.

Two other ladies helped us to raise funds this year. Last year they ran alongside me in Suresnes, this year they decided to raise money in a different way.

Spiced Bread
Isabelle de Tarlé raised €745 by selling spiced homemade bread using home grown ingredients. She must be the best bread maker in her town as that is an extraordinary sum to have made in a short period of time.

Diving School & Wedding Donations
Veronique Maury-Selle has raised €400 by asking for donations at her son's civil wedding ceremony instead of gifts, (what a heartfelt wish), and also by collecting money from an initiation scuba diving course that she runs.

It just goes to show that there are a number of ways of making a difference in this life, we all have different passions and interests, but together we can help "nourish our world".

Our Sponsors
Finally, we would all like to thank our sponsors for their generous donations, from friends, family members, colleagues, comrades and clients. Without your interest in the Foundation, this would not have been possible.

Year on Year
I started raising money for the Kalogris Foundation back in November 2013 when alone I raised €590. In 2014, a team of Re-livers raised €2160, and this year in 2015, our team raise €3150. It just goes to show that we are better together than alone!