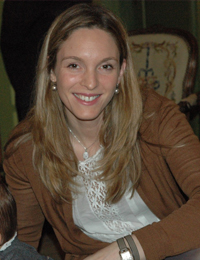 Agnès des Déserts
Marnes la Coquette, France

Currently: Independent Reliv Distributor
Reliv Regimen: Reliv Now, Innergize!, LunaRich C
New Adventure: I studied at business school and was a sales executive for seven years. After I had my third daughter, I decided that I needed a change in my lifestyle and to find a more meaningful profession. Reliv came into my life at that moment and I threw myself into this exciting new adventure. It took me nearly two years to build up my network but from that moment on, my network has continued to grow and my commissions have followed suit.
Lifestyle: Today there is meaning in what I do on a daily basis. I can fit my business around my family and my voluntary work, which is also very important to me. I can work this business around any lifestyle choices I make in the future and my commissions are gradually replacing the income I used to have as an employee.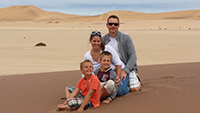 Andreas & Nadja Reinold
Salzkammergut, Austria
Currently: Independent Reliv Distributors
Reliv Regimen: Reliv Classic, Innergize!, FibRestore
Incredible Lifestyle: We love having an incredible work-life balance which means we have a CHOICE with how we can spend our time. We love people and we love our job, helping others to change THEIR circumstances. But in addition to the rewarding work, we have an incredible lifestyle.
Sharing the Opportunity: For us, Reliv is not work – it is a rewarding family project. We are now Presidential Bronze Ambassadors and are thankful that we can grow personally day by day whilst working with others. Reliv has showed us how to set up a life that we don't need to escape from and we dedicate our future to sharing this opportunity with the whole world.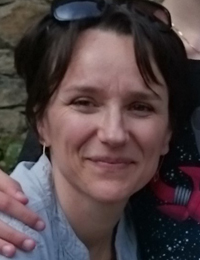 Bérangère Di Pizzo
La Celle Saint Cloud, France

Currently: Tutor for young children
Reliv Regimen: Reliv Now, Innergize!, Lunarich C, Reliv Now for Kids
Teamwork: As a teacher I have always liked working with a team. At Reliv I like the way everybody helps each other and how Distributors work together. I would like to be able to help as many people as possible with these products and to build up my team — I love training people!
Opportunity: I am working for my retirement in the future whilst still being there for my children. I would also like to further support the Reliv Kalogris Foundation, which is a very important part of the company. Reliv is an amazing opportunity!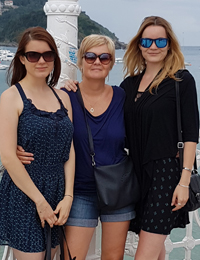 Claire Jeanneau
Bayonne, France
Currently: Jurist, Blogger
Reliv Regimen: Reliv Now, LunaRich C
Taking Control: With Reliv I have been able to start my own company with no financial risk. I organise my own time and help others to do the same. Every day I am delighted that I took control of my own future and thanks to my income, my children can continue their studies far away from home. This is very important for their future and it wouldn't have been possible without Reliv.
Creating a Legacy: What I have found at Reliv are the things that we are all looking for in life: improved wellbeing, time for myself and a steady income. I am building a legacy for my children and that is what I am most proud of!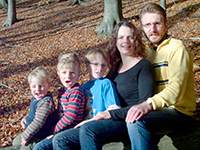 Michael & Diana Tölle
Ahlen, Germany

Currently: Homemaker, Independent Reliv Distributors
Reliv Regimen: Reliv Classic, Innergize! FibRestore, Reliv Now for Kids
Family Time: We are happily married and have 3 lively sons. As well as helping to maintain our wellness, Reliv has helped us to gain many financial rewards. We've been able to build a substantial income from our Reliv business and we are able to spend more time at home together.
Flexible Business: The nature of the Reliv business has meant that we can travel a lot to our caravan and Diana is able to work from there. Diana can help to build the business at the caravan and the children get to have a holiday at the same time!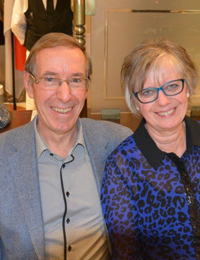 Etienne & Noella Van Huffel
Saalfelden, Austria

Currently: Independent Reliv Distributors
Reliv Regimen: Reliv Classic, FibRestore, Innergize!, Reliv Now for Kids
Improved Lifestyle: We feel fantastic and are very thankful that we have Reliv. We will always enjoy taking the Reliv products and sharing them with others. Being a part of Reliv has really improved our lifestyle and we are able to visit countries we would not have been able to travel to otherwise.
Financial Security: We constantly get to meet new people and help them to experience the positive things that Reliv has to offer. We also benefit as a result of helping others and can continue to experience a better lifestyle. Reliv gives us financial security so we don't have to worry about our financial situation.
Time Together: We are a great team – we work together, have breakfast together, look after customers together and do a lot of other activities together. We love spending our time together and that's why we say, "Thank you Reliv!"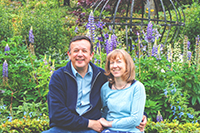 Helen & Paul Murdock
Belfast, United Kingdom

Currently: Homemaker and Sales Representative
Reliv Regimen: Reliv Classic, Innergize!, FibRestore
Steady Progress: Our business has grown steadily in the two years we have been involved with Reliv. We were really pleased when we became Master Affiliates but things have progressed and we are now 3-Star Directors and have earned our first Dr Ted Plaque. We were also really excited when we earned our first trip with Reliv – a five-star Millionaires' Weekend at Hoar Cross Hall Spa Hotel!
Inspired: We have four children and our Reliv business has helped us to build a second income but with the flexibility to fit around the demands of our home life. We look forward to continuing to grow our Reliv business and love the opportunity that Reliv gives us to help other people. It is inspiring to see what others have achieved and to know that Reliv gives us the chance to do the same.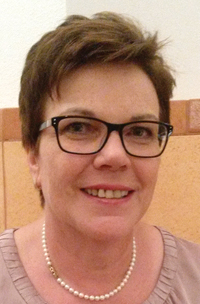 Helga Hemetsberger
Oberalm, Austria

Currently: Homemaker, Independent Reliv Distributor
Reliv Regimen: Reliv Classic, Innergize!, FibRestore, Reliv Now for Kids
Travel and Happiness: Now that my children have almost grown up, I have found a great way to contribute to the family budget with something that gives me so much joy. We are joining the Reliv trip to New York City in December and as we have never been to the United States before, it is definitely going to be a special highlight for us.
Future Goals: I always make sure that I set realistic goals for the future. I want to spend more time on my Reliv business and add more Distributors to my downline – I want a strong Reliv Team!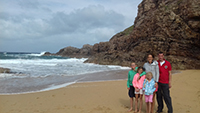 James & Leah Zwecker
Armagh, United Kingdom
Currently: Transport Manager and Homemaker
Reliv Regimen: Reliv Classic, Innergize!, FibRestore
Helping Others: With Reliv, we have much more energy and drive to do the things we love. We love telling others what Reliv has done for us and how it has enabled us to start building a business around our young family. It's such a pleasure to help others and we enjoy the fun of the business and hearing the success stories.
Reliv Lifestyle: We have three young children who love the Reliv lifestyle! They like drinking their Reliv Now for Kids shakes and having Mum at home all the time is a bonus. Our desire is to help more people and to expand our network into more countries. It would be great to have time freedom, to travel and to spend time at home with our young family.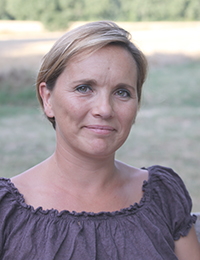 Juliette Durand
Vence, France

Currently: Freelance Graphic Artist, Independent Reliv Distributor
Reliv Regimen: Reliv Now, Reliv Classic, Innergize!, FibRestore
Family Business: The products supported me during my training for the triathlon in 2012 and helped my energy levels when I stopped smoking two months ago. The business has enabled me to work with my sister, friends and many other people which is wonderful! I have two sons and a daughter and they love the products.
Write Time: The prospect of getting older has become less alarming. Building my Reliv business has provided me with a regular income. The business has also given me the freedom to pursue my greatest hobby — writing!
Liudmila Kubu
Vienna, Austria

Currently: Independent Reliv Distributor
Reliv Regimen: Reliv Classic, FibRestore, Innergize!, LunaRich C, Reliv Now for Kids
Working as a Team: I told other people about Reliv and started to build up my own business. I have met many people through the business and we all work together as a team helping others to get incredible results.
Independence: I really enjoy working independently with this company! I can manage my time myself and by using the internet, I can work from anywhere in the world.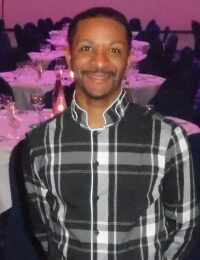 Pedro Pereira
Buckinghamshire, United Kingdom

Currently: Independent Reliv Distributor
Reliv Regimen: Reliv Now, Innergize!, FibRestore, LunaRich C
Embracing the System: Finding and mentoring like-minded individuals who share the same passion to help others is the key to a sustained organisation that will continue to grow. My testament is one of many that proves by embracing the Reliv System, anyone with sincere attributes can develop the integrity required to represent Reliv and build a successful business.
Enjoying Life: To move from an employee to running my own business is a truly liberating experience which has enabled me to take charge of my own life. Spending time with family and friends is important to me, so sharing occasions with them because I can afford the time is priceless. Thanks to this company, I am not enduring life but enjoying life!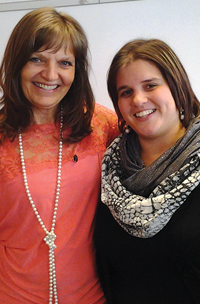 Waltraud Gitzl
South Tyrol, Austria

Currently: Seamstress, Independent Reliv Distributor
Reliv Regimen: Reliv Classic, FibRestore, Reliv Now for Kids, Innergize!
Embracing Life: I have become much more resilient and more courageous thanks to Reliv, however the best thing is that I have got my zest for life back! Since I am very interested in the welfare of others, this is a nice way for me to do some good by introducing other people to Reliv.
Reliv Family: I feel like I am part of the lovely Reliv family, where everyone is willing to work together. Reliv has brought me back to life again!